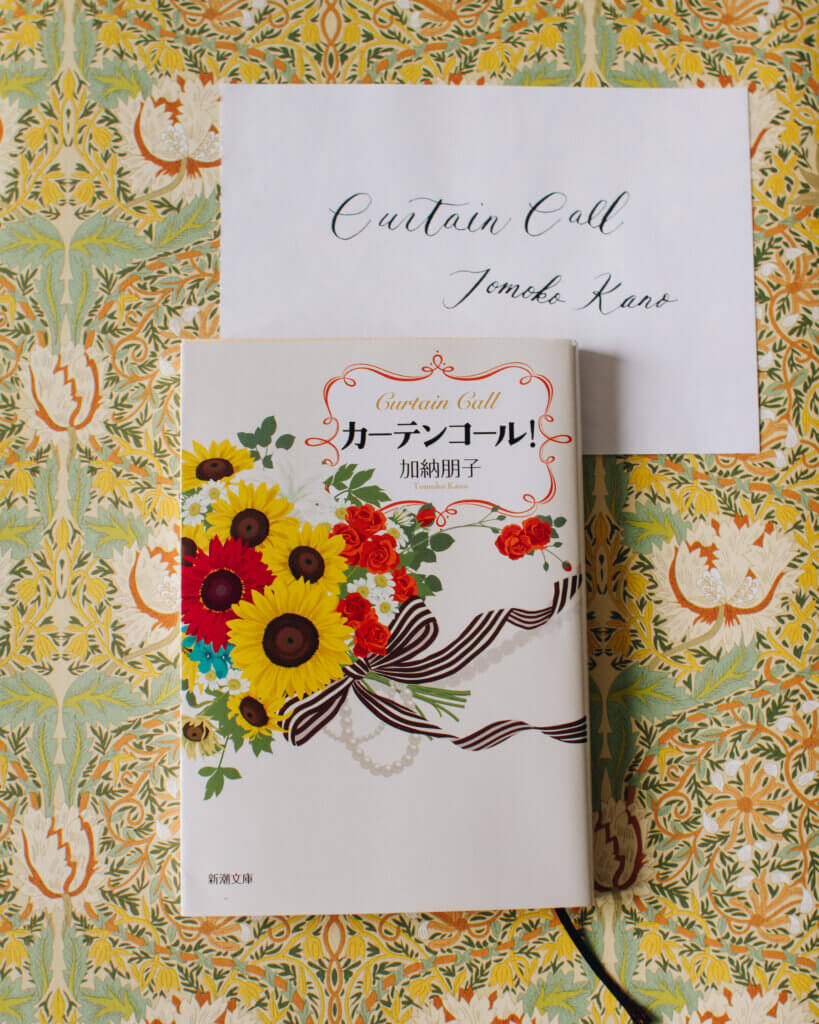 When you feel like you're absolutely done with things, disappointed with yourself and can't change the situation… what if you're then given a second chance?
もし、「もう一巻の終わりだ!」と思うような大失敗をして、自己嫌悪に陥っているときに、もう1度チャンスを与えられたら?
'Curtain Call' is the story of a struggling university student who has failed to graduate, written from the viewpoint of different students. The school is a women's-only university (it's quite common to see women-only schools in Japan, which historically brought higher education to young girls in a super-male dominant society!) and is closing due to the decreasing number of students and the resulting financial loss. The students were due to graduate before the school closes, however, due to personal reasons, they missed this chance. The schoolmaster decides to provide a 'boarding school style' study camp – exclusive to these students – to allow them to 'graduate' from the university, giving them a second chance. While it's considered 'normal' to be able to graduate from university, these students are somehow troublemakers and so-called outcasts.
「カーテンコール!」は、卒業を逃した女子大学生たちの物語。それぞれの葛藤が学生の視点から語られます。舞台となる女子大は経済的な苦境を迎え、今年で閉校。最後の卒業生になるはずだったのに、様々な理由で卒業できなかった彼女たちが、学園理事長の恩赦的配慮によって半年間の猶予を与えられます。それは、学校の敷地内にある合宿場でお泊り生活の上、決められた授業に出席することで卒業を許可するというものでした。卒業することはもはや当たり前として捉えられている中で、卒業を逃してしまった 困ったさん の彼女たちですが、この期に及んでもまだまだうまくいかない…
The setting of the story is rather weird and quirky, however, the personal story told from many viewpoints is vivid and beautiful. Many have experienced trauma and stress relating to their health, gender, and family relationships, and gradually start noticing how to learn to be able to balance these issues toward achieving a stable lifestyle to dream about a hopeful and happy future.
風変わりで、ライトノベルのような設定の1冊ですが、生徒の視点で語られるそれぞれのバックグラウンドが興味深いし、ていねいなストーリーテリングが良い。トラウマやストレスを抱える登場人物が多く、健康やジェンダー、家族等、問題と向き合い、どうバランスを掴んでいったらよいか、生活を整え夢を描くための心の準備の様子を見守る気持ちで読みました。
It's all written in a very light tone, almost like something from the 'light novel' genre. Without any complicated plots or explanations, the story tells you how to pep yourself up, move on and find a happy life. It's such a powerful and heart warming book that I would recommend anyone with struggles to take a look.
とても軽く読める作品で、複雑な筋書きもありません。でも、だからこそ、少し元気がない時に、自分を奮い立たせる1冊として、ハッピーな気持ちになれるこの本をおすすめしたいです。
This book has not yet been translated into English.
残念ながら、まだ英語訳は出ていません。