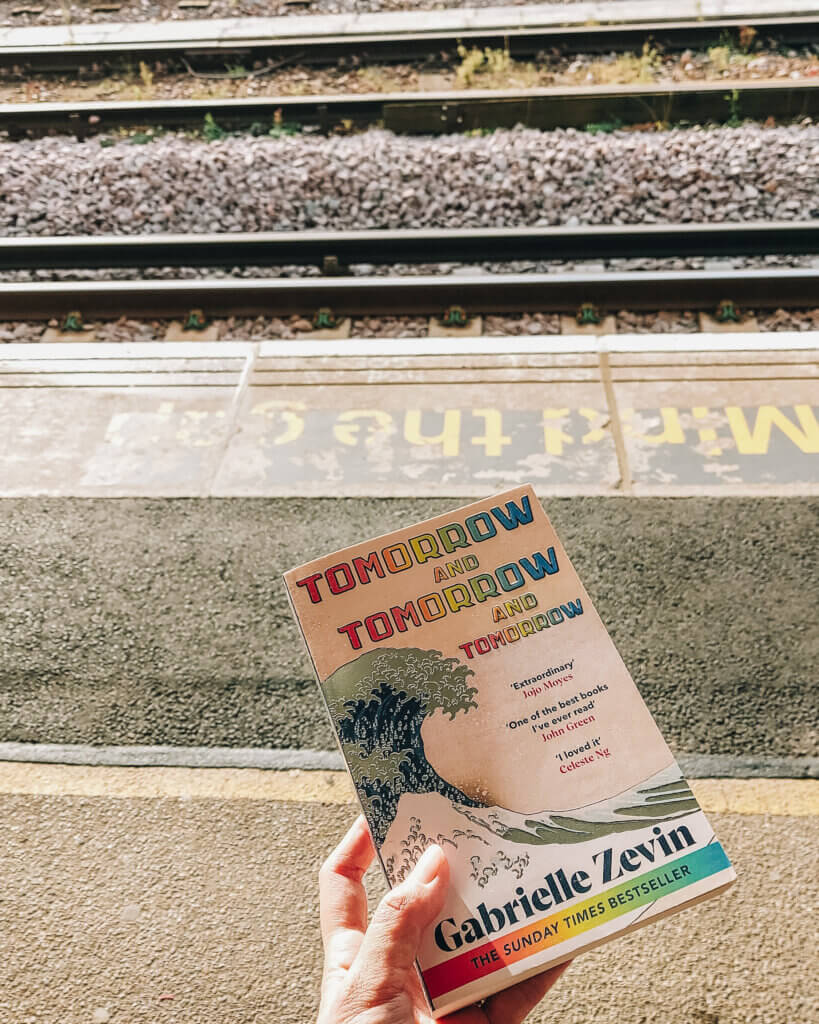 Was it worth the hype? Definitely YES! As I'm not necessarily a fan of typical mainstream reads, as soon as I saw the quote on the blurb by Jojo Moyes I had a few doubts about whether I would enjoy this book. But having finished it now, I have zero regrets about picking up this relatively chunky story about love, friendship, professionalism and creativity. I'm so happy I gave it a go!

Tomorrow and Tomorrow and Tomorrow is all about the creators of a series of soon-to-be globally successful video games, and the complicated relationships between this team. The plot comes across as very clear and upbeat, but it was also surprisingly literary and bittersweet. I especially loved how the book talks in detail about the creative process behind the games, and how the author emphasises the cultural backgrounds of the very diverse cast of characters. Ironically, none of the characters are especially happy or likeable, and this contributes toward making the story even more convincing and realistic.

Although it's set in the gaming industry and refers to many famous video games, you don't need to have prior knowledge about the gaming industry to enjoy this book – though you're likely to enjoy it even more if you are a gamer yourself. The settings are relatable to any arts/creative fields that you might personally enjoy, so I don't want people to be put off by the fact that it's about the gaming industry specifically. The main concept I enjoyed in this book was the process of interaction between people while they create something big in the world, and how those individuals feel a sense of ownership of their work/art. I truly believe this is a book for everyone!

With very easy-to-read storytelling, the author also cleverly scatters around touches of social issues, but without any sense of preaching. Tomorrow and Tomorrow and Tomorrow will surely inspire your creativity and passion, whilst also stimulating your social awareness.

I can't recommend this book more!
イギリスでもいまとっても話題の本作。日本語版も10月6日に発売となりました!
世界で大ヒットするゲームの開発者とそのチームの関係性を描いた作品。ゲーム開発の裏側やクリエイターたちの制作の様子がリアルに伝わってきます。
楽しく読めるページ・ターナーでありながらも、どこか文化的で切ない感じもする、読み応えのある一冊でした。

登場人物たちが揃いも揃ってどこかハッピーではない方々なのですが、その様子がとても現実味がありリアル。また多様な文化背景をきちんと描写しています。
ゲームの話ではありますが、ゲームファンではなくても楽しく読むことができる物語。アートやクリエイティブの制作過程や、その制作物をクリエイターたちがどう捉えて次のステップに進むのか。そんなクリエイターたちのマインドセットを読むのはとても興味深い体験でした。
所々に散りばめられた社会問題への言及が説教臭くなることなく込められているので、とても読みやすい本でありながら学びにもなります。
間違いなく、今年読んで本当によかった1冊。日本でも広く読まれてほしい。
早川書房 池田真紀子 訳