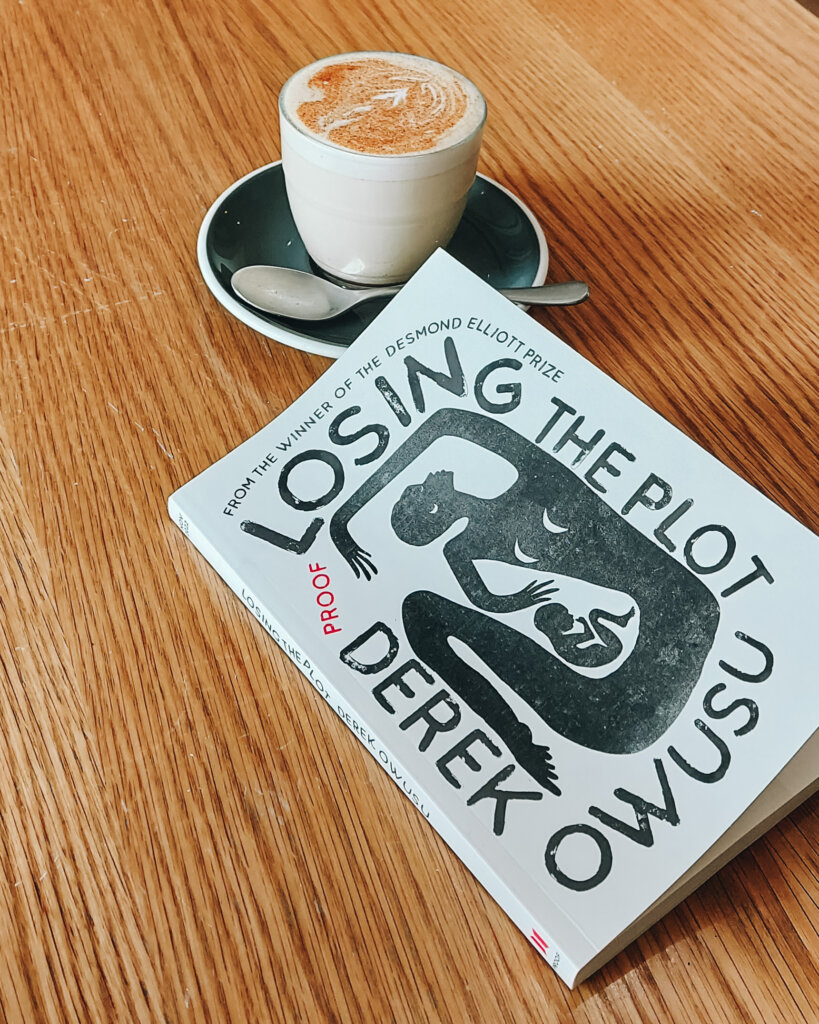 Finishing this remarkably powerful and experimental novel, I feel like I want to go back to page one and re-read the whole story again! It was that good, and that complex at the same time.
とてもユニークな文章表現が特徴的な実験的な小説。読み終えた今、もう一度最初のページから読み返したくなってしまいます。そのぐらい素晴らしく、でも複雑な一冊です。
Losing The Plot is Derek Owusu 's second novel. I really loved reading his first book That Reminds Me in 2020, so I was very happy to receive this new book before it comes out in November!
今作は著作の2作目。2020年に出版された前作「That Reminds Me」がとても心に残ったので、今作も出版前のサンプルを読ませていただき、感謝です。
This book is told from his and his mother's point of view mainly regarding the immigrant experience, highlighting the feeling of displacement following her move to the UK from Ghana. It is very interesting that it's not nonfiction, it is fiction, written as a imagined biography.
今作は母親の視点から、ガーナからイギリスにやってきた移民としての経験や居心地の悪さに焦点を当てています。想像上の自伝という建前で書かれているので、まるでノンフィクションのような作風ですが、あくまでもフィクションなのだそうです。
The style of writing is very unique, written in both English and Twi, with lots of extended footnotes to explain the Twi part. The narrative doesn't really tell the story, it is rather fragmented, so the reader is required to immerse themself into their voice and imagine their situation to fill in the untold part of their life. The footnotes contain lots of thoughts by the son, and helped me understand more about them and feel like the characters were real. Some parts are more like a conversation, some are like poetry, all different kinds of fragments blend in and structure the narrative. The writing style contributed to create a very atmospheric and realistic style of storytelling.
語り口がとても独特で、英語とtwiの二言語使用されています。Twiで書かれている箇所には注釈がついており、そこにたくさんの説明書きがあります。ナラティブと呼べるストーリーラインあるわけではなく、断片的なシーンの連続の中で、読み手がその世界観に没頭し、ひとつひとつの声に耳を傾けながら、その言葉の意味合いを想像しながら読んでいく必要があります。注釈部分には息子の視点から書かれた気持ちが読み取れるのですが、登場人物たちがよりリアルに感じられ、心に残ります。会話だったり、詩のようだったりと、様々なスタイルの文章が組み合わされて、ひとつの物語を構成している、とても臨場感のある作品です。
It's the kind of book that you wouldn't necessarily understand the plot with your first reading, and perhaps you don't necessarily need to 'follow' the plot like other general fiction books. It's more like a wonderful novel to experience the story within the immersive experimental writing. It's such a magical book and leaves you with lots of food for thought.
すべての出来事を一度読んだだけでは理解できないような、出来事を追いかけていくような物語ではないのが他のフィクション作品との大きな違いだと思います。その世界観にひたり、登場人物たちの生活や考えを一緒に経験するような一冊です。
AD / GIFTED COPY