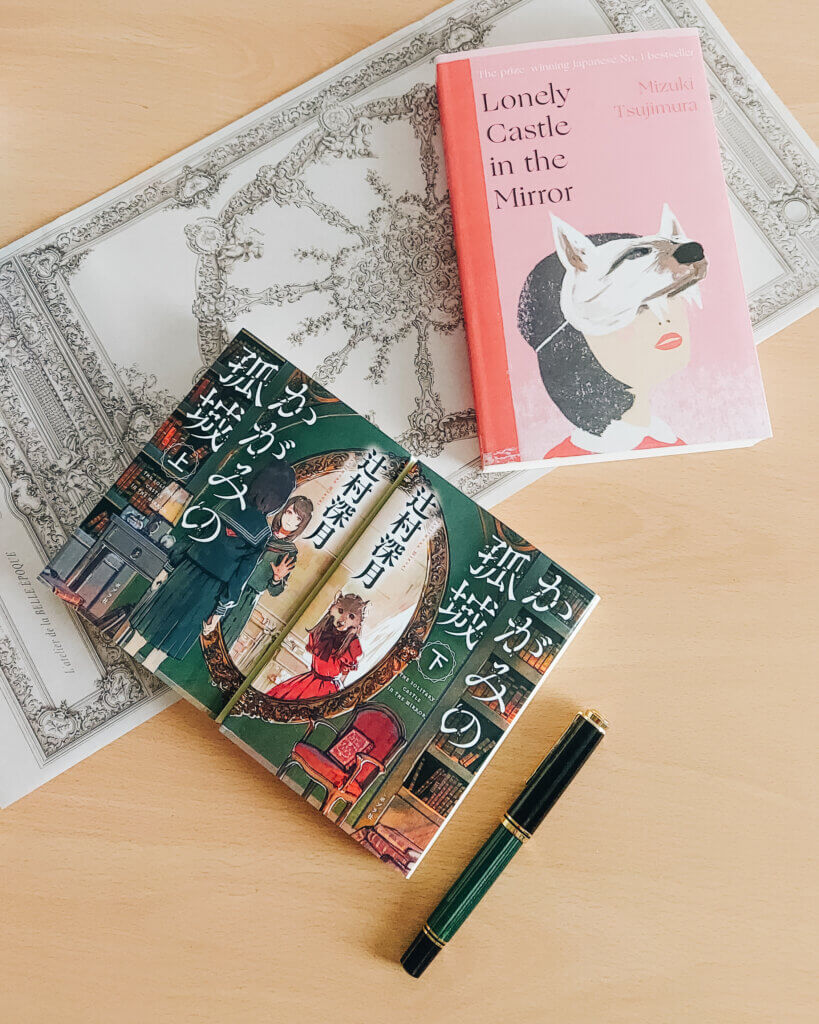 Lonely Castle In The Mirror is a mega hit fiction from Japan by Mizuki Tsujimura (translated by Philip Gabriel) and written with a young adult audience in mind. I tend to read literary fiction usually so put off reading this for a long time. While I was visiting my parents in Japan last Christmas, I noticed that it will be made into an anime film and saw the interview of the author on TV. It really motivated me to try her book for the very first time and I am glad that I did! I loved it so much!
辻村深月 さんの 「かがみの孤城」 を読み終えました。
文芸小説が好みな私。ヤングアダルト的な雰囲気と、あまりのメガヒットぶりに逆にひいてしまって、手に取るのに時間がかかってしまいました。もっとはやく読めばよかった!年末に一時帰国していた際、アニメ映画化されるとのことで、作者のインタビューをテレビでみたことがきっかけでした。
It's a fantasy novel about young students who find it hard to go to school. They are invited to spend some time in a miraculous castle inside the mirror.
不登校になってしまった子どもたちが、鏡の向こう側にある不思議なお城に招待されて、時を過ごすファンタジー小説。
The book reminded me of my school time. Unlike the characters in this novel, probably I enjoyed my school time however, the bitterness of young friendship and difficulty to make yourself understood by adults were well observed.
Anyone can be bullied. Anyone can feel isolated from the majority. Now I know what I wanted myself to be talked to at that time, but in the middle of hardships you just struggle so much.
The world changes very rapidly, lifestyle changes, but essentially human relationships and communication is always difficult especially for the young.
読んでいると、必死だった学生時代のことを鮮明に思い出します。この本の登場人物たちとは違い、私はどちらかというと学校を楽しんでいたタイプではあるのですが、それでもあの当時、嫌なことだっていっぱいあった。友達とのほろ苦い時間や、なかなか理解してくれない大人たち。そんな瞬間の強烈な気持ちをていねいに描写しています。

誰もがいじめの対象になりえるし、不登校にだってなりえる。誰もが孤独を感じる瞬間がある。学生時代ってとっても繊細な時間です。
大人になってわかる、あのとき大人にどんな言葉をかけてもらいたかったか…
世界はどんどん変化して、身の回りの環境が変わっても、人間同士のコミュニケーションは難しいし、若者の葛藤は変わらない。
Thrilling ending was so gripping! And I really loved the very heart warming last scenes for every character.
終盤のスリリングな展開にはページを捲る手が止まらなかった。胸がいっぱいになる、登場人物たちそれぞれのラストも大好きでした。
I wished I could read this when I was a student myself. It could have become a very great companion.
もっとはやく、自分が学生の頃に出会っていたら、きっとぎゅっと包み込んで、背中を押してくれる1冊になったと思う。
Penguin UK (Translated by Philip Gabriel)