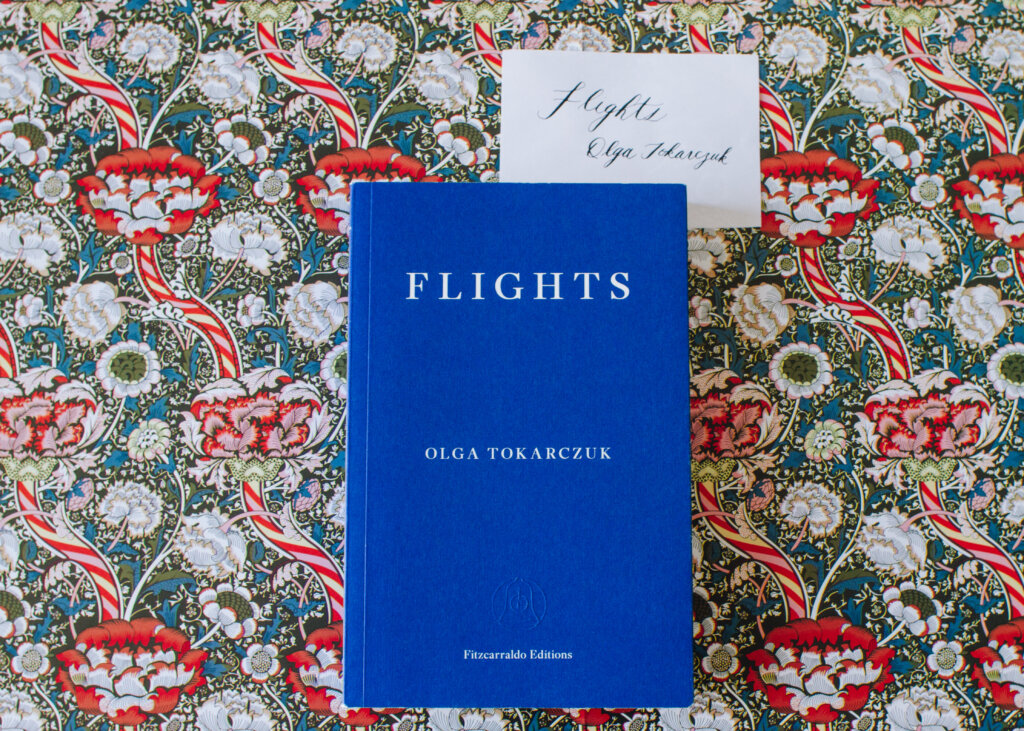 Flights won the Man Booker International Prize in 2018, and alongside the author's subsequent reception of the Nobel Prize, her books started to get more attention. I read her work for the first time after a trip to Poland in 2017, even before the book was shortlisted. Since I was deeply in love with the scenery of Poland, I wanted to try something from a Polish author and 'Flights' was the only one I could find at that moment. Due to her unique writing style, it's not an approachable page-turner; I read so many people commenting that it's really hard to understand. However, I loved its beauty and its sensitive descriptions. I felt like I was walking through a beautiful maze – one part was like an academic non-fiction book, but suddenly, it changes form into a fairy-tale or even a journal-esque style. It was something I have never read before.
2018年にブッカー国際賞、そしてその後ノーベル文学賞を受賞して話題となったオルガ・トカルチュクさんの作品です。私は2017年にちょうど初めてポーランドを旅した際に、美しい景色に魅せられて、この土地の作品を読んでみたいと、手に取ったのが本作の英語版「Flights」でした。独特な書きぶりが万人受けするページターナーではないからか、あまりレビューを見かけません。まるで繊細な迷路のような世界観、私にはとても魅力的な本に感じました。学術書を読んでいるのかというくらい堅苦しい章があったかと思えば、夢のようなおとぎ話、そしてジャーナリストの報道文章に切り替わる…そんな、章ごとに変貌するスタイルも興味深い。今まで読んだことの無いスタイルでした。
It's really difficult to describe in further detail about this book, as it is not really a novel where the story is the focus. I would say it was more like a beautiful collection of literature 'pieces', forming a big, artistic collage of old, vintage pictures. All these small pieces do not directly connect to one another, however, once you finish the book, you can see that all of them are describing the theme of 'Flights,' the movements of human beings. The vintage-looking maps woven throughout the book's pages contributes to this mysterious and artistic atmosphere.
ストーリーテリングの本ではないので、筋書きや物語の成り行きを見守るタイプの本ではありません。「あらすじ」といったものも無い。どちらかというと、小編集。でもただの小編集ではなくて、小さな美しい文学のコレクションが、ひとつの大きなビンテージ色のコラージュを形作っているような本です。そしてその小さな文章のひとつひとつが、読み終えると大きな流れで繋がっていることが見えてくるのです。ページの所々に添えられたミステリアスな古い地図の絵も、この本の読書体験を特別なものにしてくれる良いエッセンスだったなと感じます。
This is not a book to pick up in search of a gripping plot, this is a book to immerse yourself into a dazzling world of literature and to genuinely enjoy the reading and untangling of the hidden depths of the author in order to fully satisfy your literary mind. Such a unique and fantastic book, and I'm yet to find a direct competitor to it.
物語に没頭するタイプの本ではありませんが、文学の美しさに浸り、「読む」という行為を楽しみ、隠された著者の意図を考え、文学欲を満たすことができる…そんな、知的な文学に憧れる方におすすめしたい1冊です。
Fitzcarraldo Editions (Translated by Jennifer Croft)
白水社(翻訳:小椋彩 )