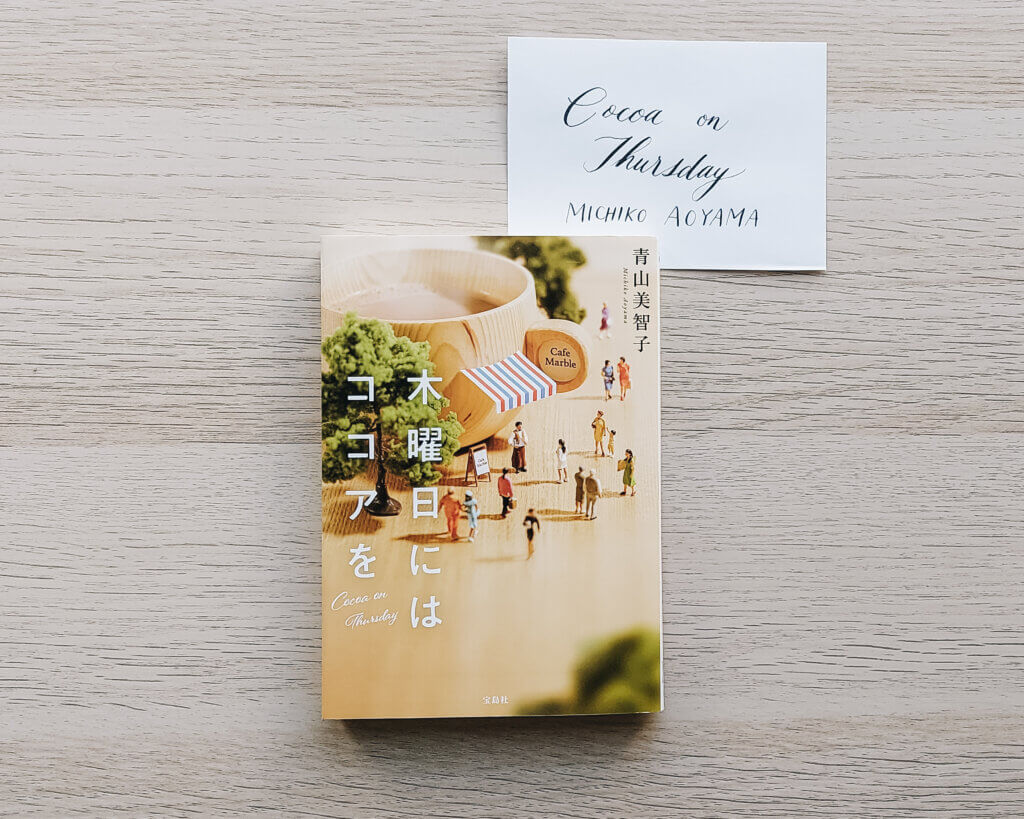 Do you have a go-to favourite cafe? What do you like about the place?
お気に入りの、行きつけのカフェはありますか?どんなところが好きですか?
This book starts with a cup of hot cocoa in the 'Cafe Marble'. The staff who runs the cafe thinks about the customers coming to order the same hot cocoa every Thursday. A busy customer with lots of business materials, a hard-working nursery teacher, a lady who writes letters in English… All these people share time in the Cafe Marble, and each has their own life story to tell.
この本は、カフェマーブルで注文される1杯のホットココアから始まる物語。毎週木曜日にやってくる常連さんを見守るカフェスタッフ、ビジネス資料を持った忙しそうなお客さん、幼稚園の先生、英語で手紙を書いている人…マーブルカフェに集う人々も、様々な事情を抱え、それぞれの人生を生きています。
The book consists of 12 interconnected short stories, written from 12 characters' viewpoints. All the characters feel slight concerns, but also are able to find a little light in their lives. I really liked how these lights are lit by the people around them, and how they will gradually come to find comfort in their own lives. The story will definitely help you feel positive minded and make you feel appreciate the little details in your life.
12編の小編が12人の登場人物の視点で描かれた連作です。悩みながらも、周りの人々との関わり合いの中から、日々の生活に彩りや光を見つけていく彼らの姿は、読んでいて心が暖かくなります。毎日の小さな出来事を大切にしていきたいと、前向きな気持ちにしてくれる1冊です。
One interesting thing about this book is that the author has spent a bit of her life in Australia, helping write articles for a magazine aimed at a Japanese audience. This story was originally published in the magazine, and later on was made into the book, with some edits and additions. Her experience in Australia is reflected in some of the stories in this book – by setting them there, this helps deepen the themes of the book from a cross-cultural, global viewpoint.
著者はオーストラリアで生活されていたことがあり、この小説も元々はオーストラリア在住の日本人向け媒体で発表されたものだそう。加筆を加え、本として出版されました。オーストラリアでの経験を活かした異文化交流やグローバル視点のストーリーもあり、物語に奥行きを与えていると感じます。
An English translation is not currently available.