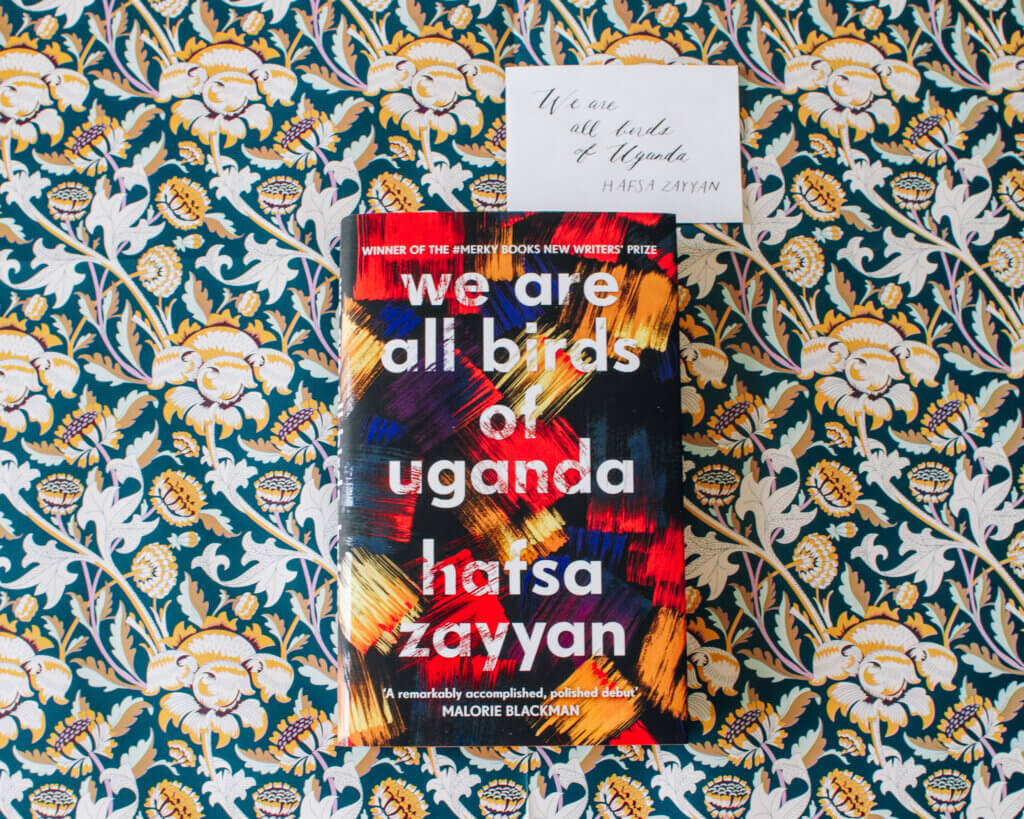 Identification of the 'self' can be a complex matter, especially if you have been raised in a multi national/cultural setting. We Are All Birds of Uganda by Hafsa Zayyan deals with precisely this matter, and stands as a gripping book about family history, culture and moving between two countries: The UK and Uganda.
アイデンティティって、とても複雑。特に複数の国や文化の中で育った人にとっては難しい問題だと思います。この本は、イギリスとウガンダの2か国をバックグラウンドに持つ主人公の。家族の歴史や文化を紐解く物語です。

The protagonist Sameer works for a law firm and is in the midst of a quarter-life crisis, caught up between a busy career and his relationship with his parents. The traditional values of a parental generation can cause struggles for a young newcomer in the urban city; being independent with a high-flying job in the city feels like *everything*, whereas your parents back in the countryside are 'remote' in every sense of the word. When Sameer experiences micro-aggressions at work, it also presents him with a profound dilemma in terms of how difficult it is to discuss and openly accept those incidents. The author managed to capture these kinds of 'moment' very vividly, and you can feel the protagonist exceptionally closely at these times as you are presented with the opportunity to think through these incidents as if they were your own problems.
主人公のSameerは法律事務所で働いていますが、人生に思い悩んでいます。忙しい仕事と、家族との関係。伝統的な考え方を持つ世代の両親は、忙しく都会でキャリアを積む若者にとって、うっとおしい存在になりがち。自立して仕事にまい進する彼らの目には、都会にある自分の生活が「すべて」に感じます。田舎の両親の世界には遠い距離を感じてしまう。また、Sameerは職場でマイクロアグレッション(自覚なき差別)の体験もします。差別はなかなか相談したり話し合ったりしにくい性質があるゆえに、主人公はジレンマも感じます。著者はそんな心がぎゅっとなる瞬間を鮮明に描いているので、主人公の問題をまるで自分事のように感じて読むことができます。

These crisis trigger Sameer to set about exploring his own identity. Visiting Uganda, hoping to gain a deeper understanding of both his family and himself – but finding internal conflicts solved and unsolved – this never-ending thought process made me realise how important and difficult it is to establish who one's own identity really is.
そんな出来事がきっかけとなり、Sameerは自分と家族のことをより理解するため、家族のふるさとであるウガンダへと向かいます。でもそこでわかるのは、アイデンティティを理解することの難しさ、終わりのみえない問いや、内面の葛藤が続きます。

Running in parallel with Sameer's story, this book also takes you to Uganda in the 1960s, through his ancestor Hassan's letters. This historical aspect was something I was definitely not fully aware of, so was intrigued to find out more about it. Atmospheric descriptions of the scenery and cuisine in Uganda really enhanced the book in addition to its central dramatic family saga. I'd love to visit the country myself one day.
Sameerの物語と並行して、この本は1960年代のウガンダで、Sameerの祖先であるHassanの物語も語られます。この時代のウガンダについては無知だった私。歴史を学ぶことで、世界情勢への理解が深まるのを感じます。もっと知りたいと思える書きぶりでした。家族の物語に華を添えるのは、美しい情景描写、街の雰囲気や食べ物の香りまで伝わってくるような読書体験です。いつか私もウガンダに行ってみたいと心から思いました。

The book handles tough, weighty topics such as history, immigration, religion, discrimination and identity with a highly readable, beautiful tone of voice. I was left with the feeling that this was truly a special book and one which I was glad to have got the opportunity to spend time with!
歴史、移民、差別やアイデンティティなど、難しく重いトピックを扱った物語ですが、とても読みやすく美しい1冊です。読んでよかったと、心に響く物語でした。
Just a little side-note, but this is a debut novel, and the author wrote this book whilst balancing the writing process with a full time career as a lawyer! Her actual experiences must have very much been reflected in the first half of the book. It's really great to see such a remarkable work by a rising star from a new, young generation of authors!
ちなみに、この本は著者のデビュー作品!弁護士として働きながら、本業とバランスを取りつつ執筆された作品だそう。彼女自身の経験も活かされているからこそ、前半の若者の悩む姿がリアルに感じられるのかなと思います。若い、同世代の著者のステキな作品を読めて嬉しい想いです。
Penguin UK
残念ながら、まだ日本語訳版は出ていません。