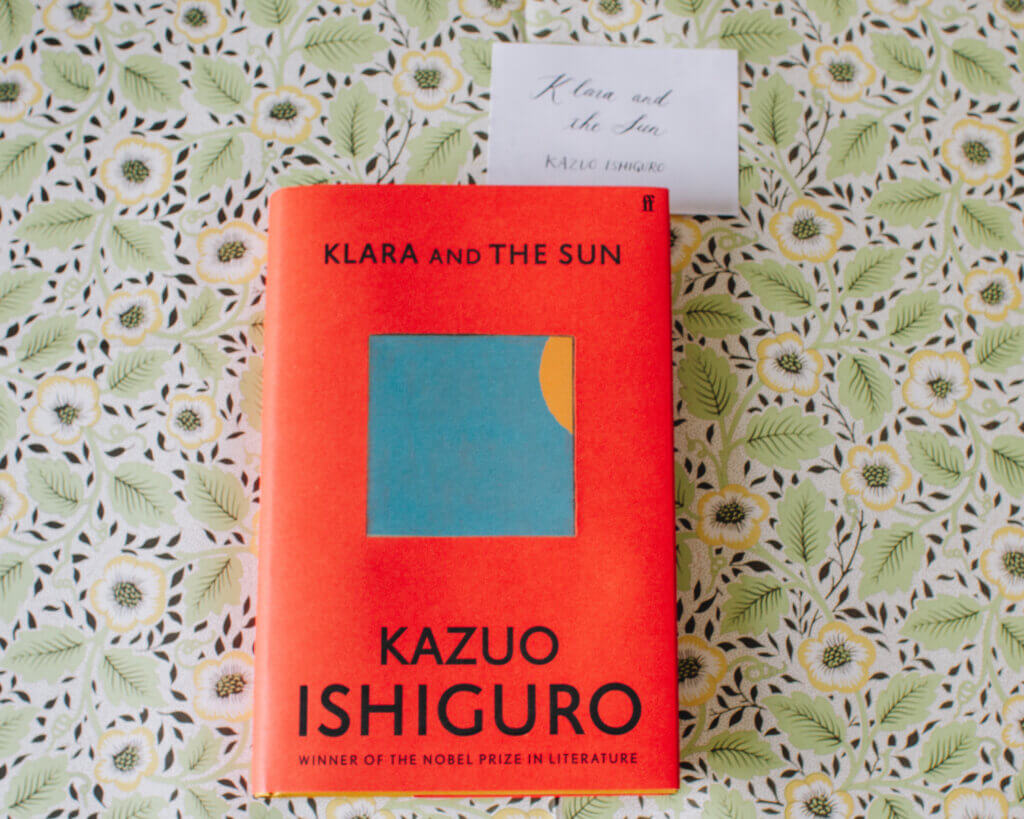 Can technology ever understand human emotion? Can a humanoid robot love you, and is it ethically sound for it to do so?
テクノロジーは人間の感情を理解できるでしょうか。人型ロボットは、人を愛することができるでしょうか。そしてそれは倫理的に許されるものでしょうか。
In all likelihood, these questions have been frequently asked in many tech articles over the past decade or so, however, Kazuo Ishiguro's latest book offers another entry point for the reader to imagine a world full of humanoid robots, and how people might start interacting with them in situations of close social intimacy.
テクノロジーに関する話題の中でも、既に語りつくされた質問かもしれませんが、カズオ・イシグロの新作「クララとお日さま」は、人型ロボットと暮らす世界をより身近に想像することができる作品です。
In the novel, the solar powered Artificial Friend Klara has been given a home to live in, providing companionship to a teenage girl, Josie. Klara starts her life with this real ' human', trying hard to understand both the signals humans exchange and their complex communications that are not always entirely straightforward. She believes that she, even as an Artificial Friend, has emotions and the capacity to understand/learn human behaviour.
主人公のクララは太陽光で動く、AI搭載の「Artifical Friend(作中はAFと呼ばれます。人工親友?人造の友達?日本語訳はどうなっていたでしょうか。日本語訳未読なので、よかったらぜひご教示ください。)」です。ジョジ―という女の子の元で暮らすことが決まりました。クララは本物の「人間」と暮らす中で、人間たちが発する感情の微細なシグナルや、小難しいコミュニケーションのやり取りを学んでいきます。そして、AFではるクララ自身は、AFは人間の感情を理解する能力があると信じています。
Seen through Klara's eyes, the world of the novel is unveiled gradually by way of fragmented information, the reader coming to notice and pick up on the finer details of this futuristic setting, as we did in Ishiguro's other science-fiction themed book, 'Never Let Me Go.' Many of the ethical questions asked in 'Never Let Me Go' are re-told and re-presented here, amidst the rather more immediately imaginable, AI-advanced future depicted in 'Klara and the Sun.' I personally think it might have been more interesting if some of the elements about this fascinating setting were clarified just a little bit more in the text, however, perhaps Ishiguro wanted us, as readers, to imagine for ourselves and to fill in the gaps with our own opinions and ideas?
クララの視点で語られる、この小説の近未来世界の設定は、とても断片的に読者に伝わってきます。それは、イシグロの過去作「わたしを離さないで」の中で主人公の視点を通して、独特な世界観を徐々に理解していったあの読書体験ととても似ています。そして、「わたしを離さないで」の中でも問われていた倫理観の問いが、いくつも本作で同様に問われています。特に本作はAIの台頭により、世界で人型ロボットがより普遍的に親しまれる…という、想像しやすい近未来の設定であるために、過去作以上に、そんな問いを深く考えさせられました。ただ、正直なところ個人的には、もう少し、この物語の設定を詳しく知りたかったなと思います。おそらく著者は、この情報のギャップを、読者の想像力とディスカッションで補うように意図しているのでしょう。
Honestly speaking, I felt some of the plot and characters were a bit too unrealistic. In particular, with some of the key human characters, it seemed rather hard to grasp their motives behind some of the important decisions made during the main plot (I'm trying to avoid spoilers here, so apologies for the ambiguity!) that really made me feel unsympathetic about how the story proceeded from that point onward.
筋書きに納得がいかなかった部分があった、というのも言及しておきたい。今作、特に重要な登場人物の、ある重要な決断の動機がどうも納得がいかず(ネタバレを避けるため、こういう言い方をします。わかりずらくて失礼します)、物語の行く末に共感を抱けなかったのが残念でした。もちろん個人的な好みの問題かもしれません。
That said, I loved the protagonist Klara so much. Her honesty and purity made for such a good contrast between the portrayal of robot emotions and human emotions; she was presented as a model companion for human beings who can, inevitably, be very greedy and untrustworthy from time to time.
ネガティブなことを書いてしまいましたが、主人公のクララはとっても魅力的。その素直さと純粋さは、ロボットと人間の感情を描くうえで良いコントラストになっていました。というのも、人間って時に欲張りで傲慢で、信用ならない存在だと思うのです。
The book was such a page-turner, and combined with its powerful, sentimental overtones, the afterglow left by the last chapter is classic Ishiguro at his best. Throughout, you are presented with so many unsuspecting ethical questions that you would love to discuss immediately with others; totally my kind of novel. In the end though, I have to say I enjoyed 'Never Let Me Go' and 'The Remains of the Day' more, both for what I felt was a more realistic portrayal of human emotion, and their beautifully structured detail that never for a moment gave me cause to doubt their clarity.
続きが気になるページターナーの本作、とってもセンチメンタルな読後感はいかにもイシグロ作品!という感じ。読みながら、周りの人と語り合いたくなるような、倫理的なテーマが沢山潜んでいる物語は、正に私の好きなタイプの考えさせる1冊です。ただ、大好きなカズオ・イシグロさんの作品の中でだったら、正直なところ「わたしを離さないで」や「日の名残り」ほどのリアルな心象描写や、繊細な舞台設計には欠けている、と感じました。これからの作品にも期待!