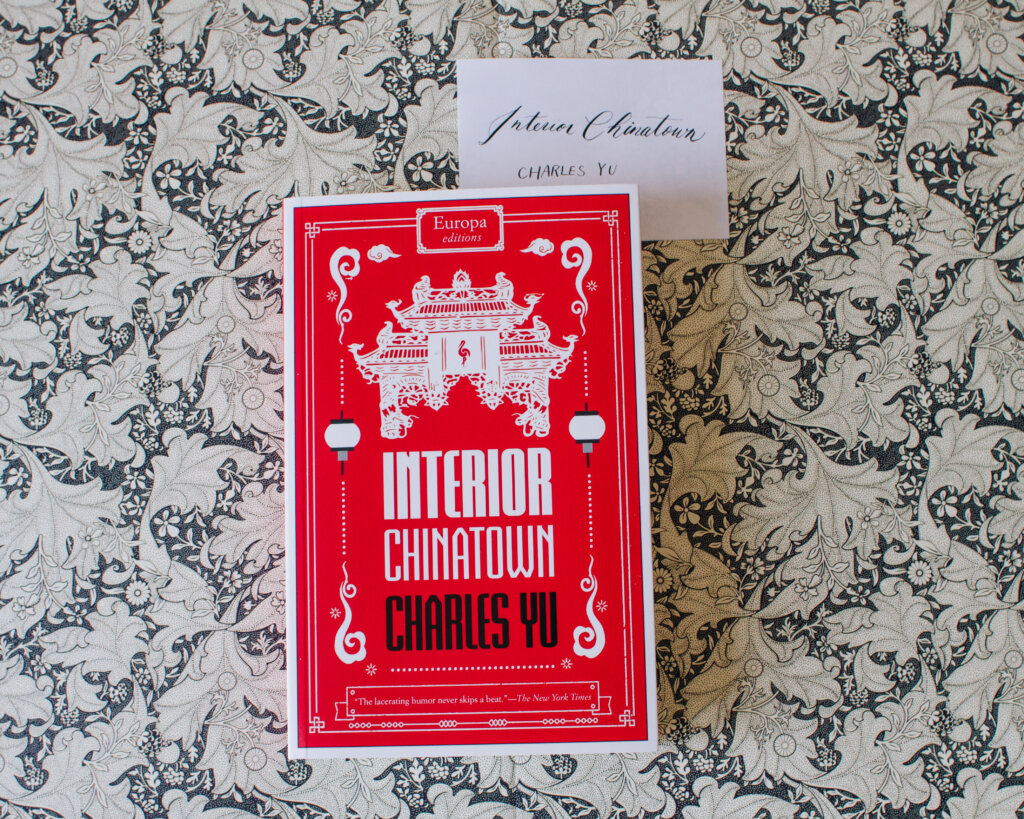 How many books you have read from a Chinese author? As an Asian immigrant myself, I've always felt the representation of Asians in the publishing industry really needs to be a bit more balanced. With this in mind, and despite its theme, 'Interior Chinatown' was such an humorous book to make my way through, with a light, easy-to-read tone, as well as a realistic depiction of the internal dilemma Asians are likely to feel. I really hope this book gets more attention, not just in regards to its original publication in the US, but also in the UK.
中国人作家の本は読んだことがありますか?私自身、今暮らすイギリスでは移民なので、イギリスやアメリカでも、アジア人作家の本がもっと出版されたらいいのにと感じます。「インテリア・チャイナタウン」は、ユーモアを交えて軽いトーンでチャイニーズ・アメリカンたちの感情を綴る作品、軽いだけでなくずっしりとしたリアリティもあります。この本はアメリカでは注目されましたが、イギリスではあまり読まれておらず、もっといろんな方に広く読まれるようになったら良いと切に願います。
The book is written in a style of screenplay/script – set in a fictional Chinatown – and all the characters are given a role to act out. The protagonist is called Willis Wu, the 'Generic Asian Man' himself, and a son of the 'Kung Fu Guy', though he too also longs to take the role of Kung Fu Guy. Asians are expected to take stereotypical roles, starting with the extras: 'Background Oriental Male,' 'Dead Asian Man', 'Generic Asian Man / Delivery Man' etc… No matter how much you might wish to be a superstar, your career goals ultimately stop on reaching the 'Kung Fu Guy'; just another clichéd 'Asian' role. There is a glass sealing that they will never overcome, because of their Asian faces. The setting of this book captures this reality for Asians – to be seen as 'one of them' – not even as 'Chinese' or 'Japanese'. It is a world where you will never become 'white', but they are trapped chasing their dreams to be like 'whites'. The TV show they are filming in the book is called 'Black and White,' starring a black person and a white person in the two main roles. This shows the author's viewpoint in regards to Asian American representation in the US; they are 'Asians', but probably not seen as 'Americans.'
TVドラマや映画の脚本のようなスタイルで書かれた本作、舞台は想像上のチャイナタウンで、キャラクターはそれぞれ脚本の中で役を与えられています。主人公のWillis Wuは「Generic Asian Man(普通のアジア人男性)」の役を与えられている。父は皆が憧れるスターの「Kung Fu Guy(カンフーの男)」でした。アジア人は、ステレオタイプ化されたアジア人のための役をこなしていきます。まずはエキストラの「背景にいるオリエンタルな男」、次は「死んだアジア人男性」、「普通のアジア人男性 / 配達員」…でもどれだけスーパースターに憧れたところで、その終着点は結局「カンフーの男」、つまりはアジア人のために用意されたステレオタイプ的な役から抜け出せるわけではないのです。そこにはガラスの壁のようなものがあり、アジア人の顔をしている以上、通ることはできない。そんなこの本の設定は、アジア人が一括りに語られている様子をも描写します。「中国人」や「日本人」ですらなく、「アジア人」でしかないということ。また、この本で撮影されている設定のドラマというのが「Black and White」というタイトルで、白人と黒人がメインキャストであることにも著者の意図を感じます。アメリカにおいて、「アジア人」がおそらく「アメリカ人」ではないと見られがちなこと、そして「白人」にはなりえないアジア人が、「白人」になるような夢を見ていること…
A lot of Asian film stars have mentioned in recent interviews that they have experienced similar situations where their roles have contained 'stereotypical Asian' elements. Moreover, this is not just a concern in the film industry, Asians are constantly facing these stereotypes on a daily basis, where they are – consciously or not – expected to fulfil the 'Asian roles' in society, and so they do. This is the reason behind the book's title: 'Interior' Chinatown. The book captures these moments of realisation as an Asian incredibly well; it was so entertaining, but very bittersweet at the same time.
多くのアジア人俳優が、この本に出てくるようなステレオタイプ的な役を演じることについて近年インタビューで語っています。また、これは映画やドラマの中の話だけではなく、移民の日常生活においても、無意識的にであっても、アジア人的な役割を求められていると感じ、仕方なく言い訳もせずにその役を担っているような部分にも当てはまると思います。だからこそこの本のタイトルは「インテリア・チャイナタウン」つまり「内面的、内にある」チャイナタウンなのではないでしょうか。アジア人として感じるそんな違和感や焦燥感を鮮やかに描いたこの作品、面白いのと同時にほろ苦い1冊でした。
The book won the 2020 National Book Award and a Hulu TV adaptation is said to be forthcoming.
アメリカで2020年に全米図書賞を受賞、Huluでの映像化も決定しています!
Europa Editions UK
日本語版は残念ながらまだ出版されていません。